Now available on iTunes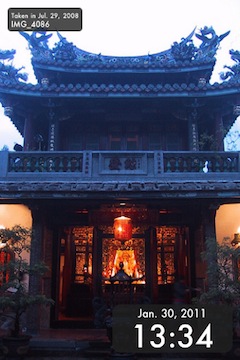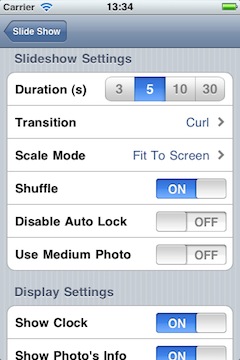 About This Application
Flickr Photo Frame makes your iPhone or iPad a digital photo frame easily.
Flickr Photo Frame plays slideshow using photos on Flickr, so you don't have to bring photos into your iPhone/iPad.
It can also play photos of users in your contact as well as your own photos, you can see photos of your family who live far away from you.
How To
Preparation
Please create account at
Flickr
. If you want to use your own photos for slideshow, please upload the photos to Flickr. If you create Sets and adding photos to them, you can easily change photo set to be used for slideshow.
If you want to use photos of other users, please add them to your contact on Flickr. To see photos which the user publish to only family, you have to add the user to your contact as family.
You need the user's permission on adding them to your contact.

Login
First time you use this app, it shows button to login to Flickr. Please tap this button and login after Safari starts and show Flickr Login page. * If you already have logged in Flickr with Safari, this step will be skipped.

After you logged in, it shows page which request your confirmation to allow this app (FlickrPhotoFrame) to access your data on Flikcr. Please tap "OK, I'LL AUTHORIZE IT" to give this app the permission.

This app starts again and get your photos to play slideshow.


Slideshow
Please tap the screen to show status bar and you can go to settings by tapping [Settings] button.


SettingsYou can configure following items.

Flickr Set to display

By default, your all photos on Flickr are used for slideshow. You can change which photo set including other user's photo set is used for slideshow by tapping this item.


Slideshow Settings





Duration

Duration of showing a photo. You can select from 3, 5 ,10 and 30 seconds.



Transition

Effect of transition to next.



Scale Mode

Way to scale a photo. In [Normal] mode, photo is scaled to display whole of photo. In [Fit To Screen] mode, photo is scaled to fill whole of screen. * aspect is kept, so part of photo may not displayed.


Shuffle

Shuffle order of slideshow.



Disable Auto Lock

Disable Auto Lock while slideshow is playing.



Use Medium Size Photo

If this option is set ON, slideshow uses only middle size data of photos. It is useful for case you use this app with low speed line.


Display Settings



Show Clock

Show date and time.



Show Photo's Info

Show taken date and title of the photo. If the photo doesn't have these attributes, nothing is shown.



Date Format

You can select date format of clock.



Time Format

You can select time format of clock.



Font

You can select a font used for clock and photo's information.



Flickr Settings




Logged in as

This is the user who read photos for slideshow. By tapping this item you will log off.



Owner of Photo Sets

This is the user who own photos for slideshow. By default it is you and you can select a user from your contacts by tapping this item.



Photo Sets

If the owner user has photo sets, you can select a set for slideshow.


Notes


This product uses the Flickr API but is not endorsed or certified by Flickr.


Ads are displayed for 15 seconds every 5 minutes.


Number of photos used for slideshow is up to 500. * We're going to improve it in future version.


Duration of depends on line speed.


Support
http://twitter.com/ukuleletrip
License
Copyright 2011 Ukulele Trip All Rights Reserved.

This application uses ObjectiveFlickr.

About license of ObjectiveFlickr, please read the "ObjectiveFlickr" item in Settings page.